SHALICK
2018 Spring & Summer Theme - Complete
It is as if the last piece is dovetailed into a puzzle. All missing parts are gathered perfectly. In this season, as a priority, the Shalick collection is formed with the idea of an affinity and matching with tailoring "Shalick Zero Light". It is no exaggeration to say that following fabrics are arranged just for "Shalick Zero Light".
"Super Stretch Shalick" which enjoys an excellent reputation. "Juncool" 100% wool fabric which is reborn with finer yarns. "Silk Spiral & Mohair" a new quality which twines fine silk around wool and is blended with mohair.
This collection of fabrics is the best for high Summer fashion. They can be described proudly as newly innovated Shalick. Now, Shalick is a byword for Summer fabric. And tailoring for Summer is, so to speak, Zero Light Tailoring. For 2018 Spring & Summer, all elements are completed.
Shalick is an ideal fabric for midsummer clothing, based on the knowledge for the hot and humid summer of Japan. And comfort wearing to feel refreshing wind by remarkable breathability of Lacey (mesh) effect brings the cool dressing at summer scene. With adding the set-up styles to conventional suits and jackets, coordinating becomes more freely, you can enjoy the style. Brilliant style for brilliant season to shine, Shalick also for this summer.
ゼロライト
SUITS & JACKETS
Super Stretch Shalick
NEW
The stretch function in the width of this fabric is greatly improved - which facilitates active body movement (Stretch rate is 12%.Recovery rate is 96.4%/1hour later.) This makes it appropriate to give the fabric the name "Super Stretch".
The collection consists of plains and a rich variety of stripes which are the basis of stylish menswear. The tailoring of garments is also improved. "Zero Light" tailoring is recommended for this fabric.
WOOL74% POLYESTER26% 180/190g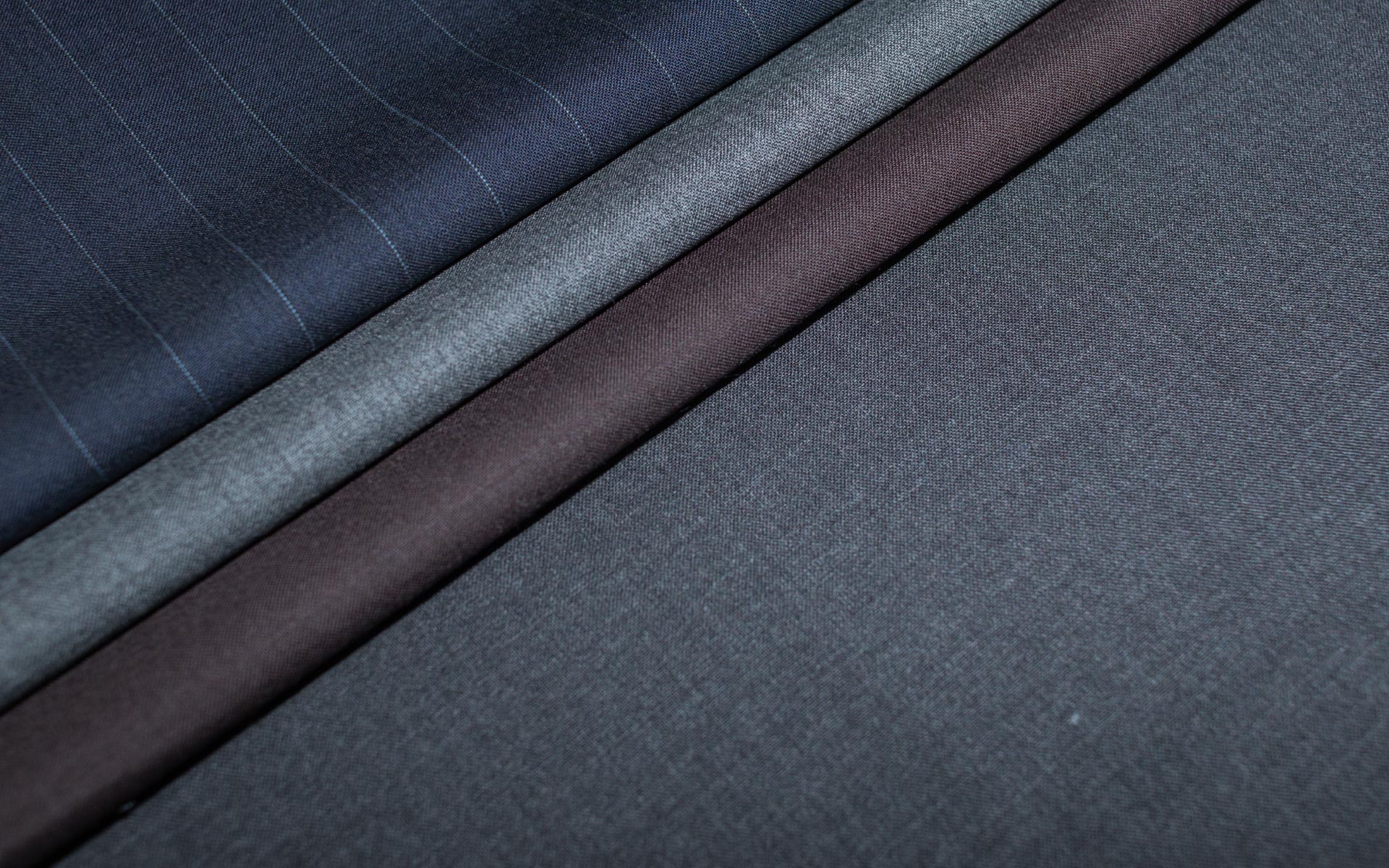 WOOL100% Juncool
NEW
"Juncool" has achieved its great evolution through the use of 100% wool with high twist yarn. The new yarn now used is finer and has been upgraded from 2 fold 80 count yarn to 2 fold 90 count yarn. (Yarns are recognized as being finer when the yarn count figures become larger.) We make use of "compact yarn" to obtain the great benefit from this finer yarn. "Compact yarn" is spun by a truly innovative method. Wool hairs which appear subtly on the surface of normal yarn are hidden inside the compact yarn. The yarn thickness is even, the cross section becomes more round and in addition, the strength is increased. Such a superior yarn makes it possible to weave and finish fabric to the highest quality level. Sophisticated designs display the concept of "cool and chic". Please pay your attention to "check design" and "colour blue".
As the newly conceived "Juncool" the fabric has become finer and stronger, with a clearer appearance. "Zero Light" tailoring is recommended for this fabric.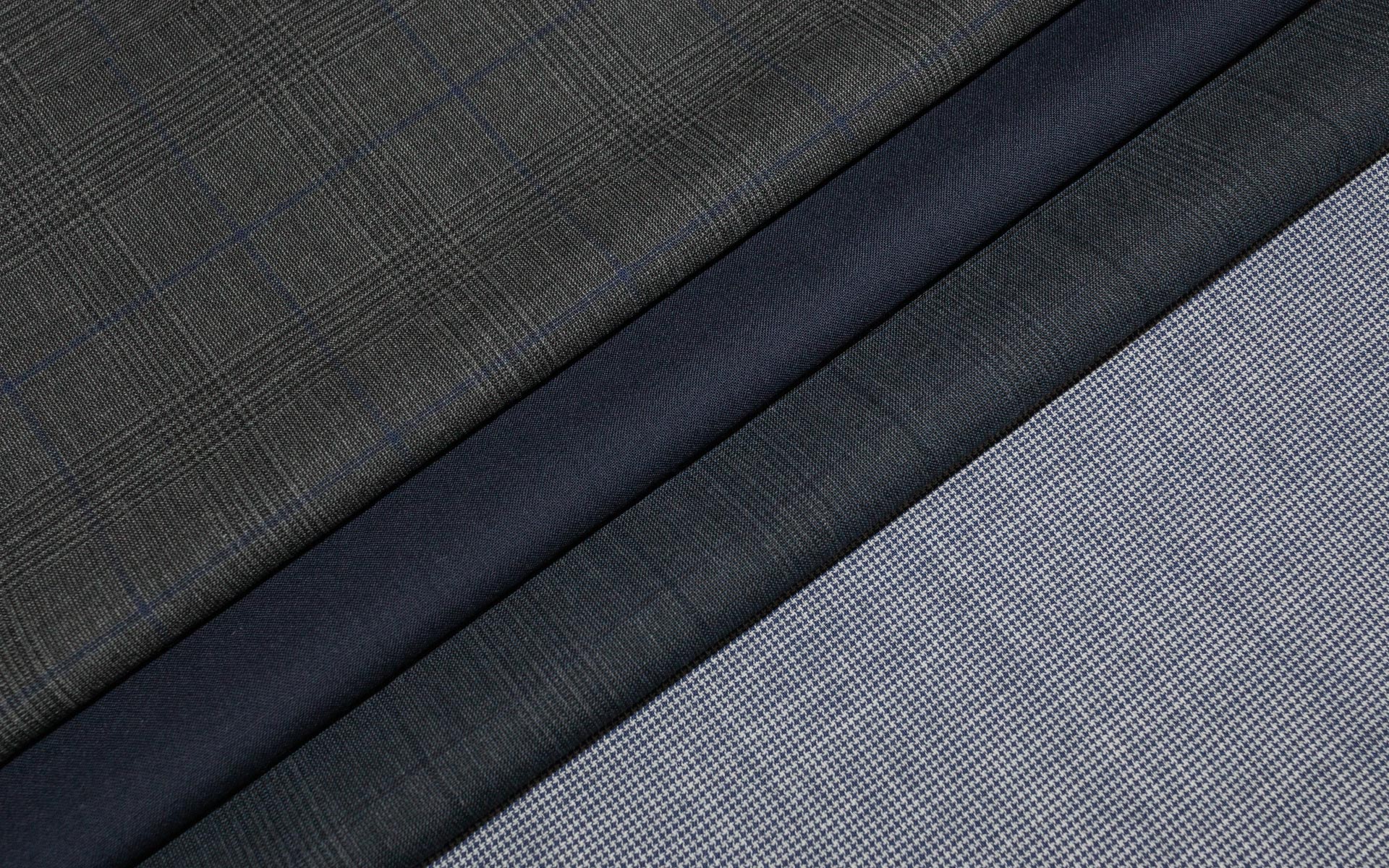 SILK SPIRAL & MOHAIR
NEW
Combination of Luxury yarns
For the warp: Adopting a "Silk Spiral" yarn which is spun by twining superfine silk around high-grade wool we succeed in spinning a 2 fold 115 count super fine yarn. You can enjoy this elegant silk luster by delicate, superfine yarn. For the weft: Through the use of this "mohair" blended yarn the fabric gains characteristics such as luster, coolness and the resilience that is an inherent advantage of mohair. This is a "tripartite" fabric that marries the luxurious natural raw materials of wool, silk and mohair."Zero Light" tailoring is recommended for this fabric.
This is an enlarged micrograph of "Silk Spiral Yarn". The dark parts on the sectional photo are the silk filaments. On the lateral photo the brown parts are the silk filaments.

WOOL80% MOHAIR10% SILK10% 200/210g MADE IN JAPAN