NAPOLENA
2018 Spring & Summer - MADE-TO-ORDER FABRIC
This does not mean a fabric for tailor-made garments, so what is an order fabric? We do not accept "normal" as a standard in any of our production processes such as yarn preparation, weaving, washing and finishing. We are never satisfied with the existent program of production; the fabric is "created" using exclusive methods, aiming to achieve perfection in quality and design. This season's "Napolena for 3rd generation" is offered in 3 qualities. It is no exaggeration to say that this fabric collection is created specially to Miyuki's own specification. "Napolena for 3rd generation" offers our customer a world-class selection of fabrics which are purely Made in Japan.
MADE-TO-ORDER YARN
For the Spring & Summer collection, we have 3 fabric bodies for "Napolena for 3rd generation". Each of these fabrics is woven by made-to-order yarns which are unique to Miyuki.
MADE-TO-ORDER WEAVING
Traditional loom "Schonherr" is now becoming rare and can be described as a legend. Almost all fabrics for "Napolena for 3rd generation" are woven by this loom. The speed of this "Schonherr" loom is slower and productive efficiency is less than the innovative high speed loom. However this loom produces the original "taste" of bulky touch. Therefore for this collection, we venture to weave our fabrics by this weaving loom.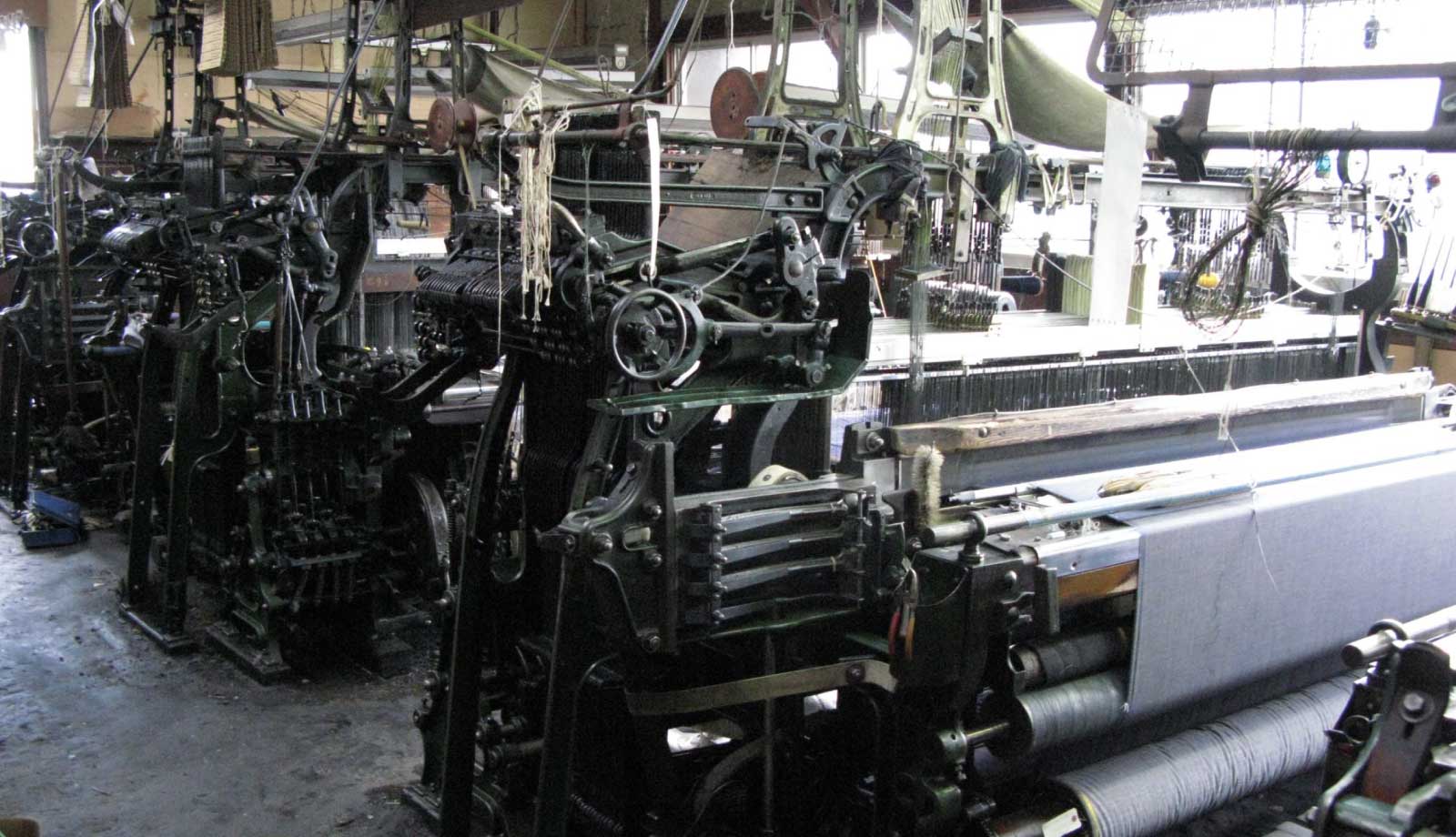 MADE-TO-ORDER WASHING/FINISHING
Stubbornly we continue to use "Natural soap".
"Natural soap" needs more skillful usage than synthetic detergent as it is a difficult substance. The reason why Miyuki continues to use such a time consuming "Natural soap" is of course we can obtain an excellent fabric handle. By using natural soap, fabric is finished closely and carefully. This fabric will gently swallow up a wearer with velvety and soft touch. Natural soap is the "absolute" substance to produce delicate handling for wool, which synthetic detergent never bring out. However when we use "natural soap" careful attention must be paid when for stirring as soap balls are easily made. Once fabric captures these soap balls, the fabric becomes a defective product and is not allowed to go the next finishing process. It is also more difficult to wash off than synthetic detergent so that abundant water is needed for the washing process. This process should be done slowly and repeated several times.
Distinguished clarity, how to make use of famous water in Yokkaichi.
Good fabric is born from good water. Miyuki transferred our washing, finishing mill to Yokkaichi in Mie prefecture where there is one of the leading sources of "famous water" in Japan. The source of water is from Suzuka mountain range. Over a long period of time snow and rain are purified. We can obtain a rich amount of groundwater that has perfect whiteness and clarity. Miyuki's original process which makes use of this famous water, bounty from Suzuka mountain range, produces fabric with durable but velvety, smooth handle. (By using of natural soap,2~3 times more water is used for rinsing than is used with synthetic detergent.)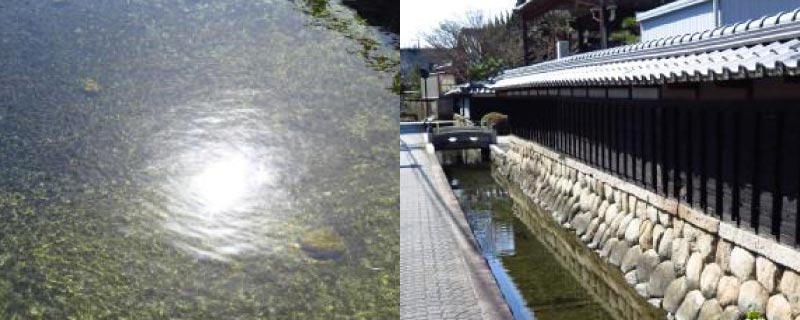 MADE-TO-ORDER WATER, it is used after changing to soft water.
The water of Yokkaichi is perfectly good water as it is, but Miyuki adds one more process before use. By removing calcium and magnesium, this natural water becomes "soft water". These mineral components are easily combined with soap and the washing effectiveness would be weakened. To maximally bring out the washing ability of soap and to act directly on fabrics, these mineral components are removed in advance. It is also desirable to remove these components as they become a cause of the outbreak of soap dregs.
Natural soap needs abundant water and much time to rinse the soap out of fabric. Nowadays, synthetic detergent is preferred as the foam is rapidly removed and it is convenient. However to bring out fabric rich handle, natural soap is much better than synthetic detergent. Miyuki continues to use natural soap which takes time for use, as we take fabric handle into account.
In addition, at the rinsing process and without completely washing off we try to leave a subtle amount of oil, which wool hair originally has, as well as oil components from soap. To obtain an excellent wool handle, this subtle amount of oil component is quite important.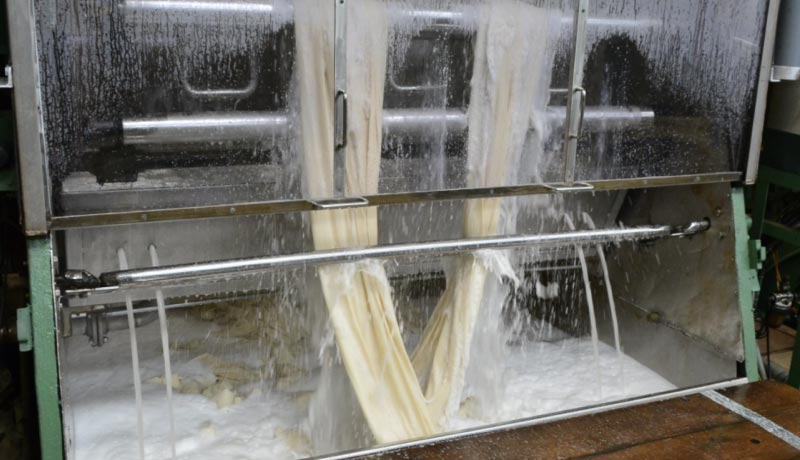 MADE-TO-ORDER DESIGNING
Since the debut in 1981, as a most eminent domestic fabric, Miyuki Napolena has been receiving patronage from customers. In its long history, it has been receiving orders by succession from father to son, from son to grandson. For this "Napolena for 3rd generation", we have an earnest wish that young customers who will be active around the world will wear stylish custom-made clothes. For our new customers who are described as third generation, our continued design theme is "internationality" to make their debut into the world of custom-made clothes.
We have concentrated our focus on young executives who travel all over the world and targeted designs and elegance which could be used worldwide.
SUITS & JACKETS
3rd generation:100%WOOL 2/1TWILL 265g
NEW
The 2 hold 100 count yarn (equal to super 140's) which is adopted for warp, is traditional made-to-order yarn. Compared with the ready-made yarn in the same count, this yarn is twisted more tightly and it excels in evenness and strength.
5 colours of plain fabrics which are wearable as a 10 months fabric. Fabric has firm handling with a smooth touch which is the fruit of "increased twist" which is mentioned before. Colours are dark navy and bluish navy, charcoal light grey and chocolate brown which are foreseen to come into fashion.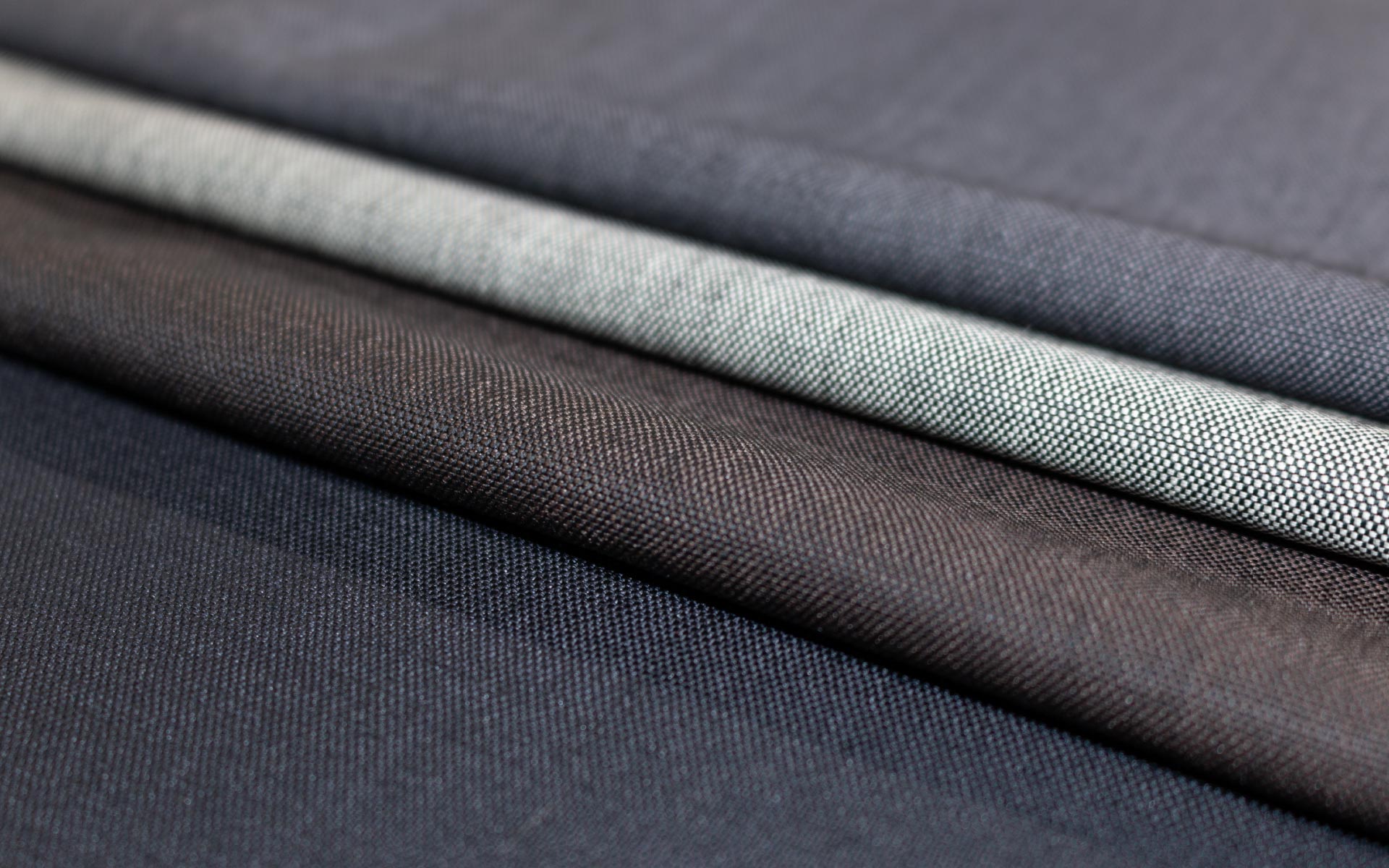 3rd generation:100%WOOL PLAIN 205g
NEW
Miyuki's traditional made-to-order yarn of 2 fold 100 count yarn (equal to super 140's)are used for both warp and weft. Yarn twist is increased and strength is improved. This yarn is truly specified for Miyuki.
Designs which consist of this quality are slightly retro mood with grained designs, shadow stripe as royal roads to designing and very delicate double track stripe.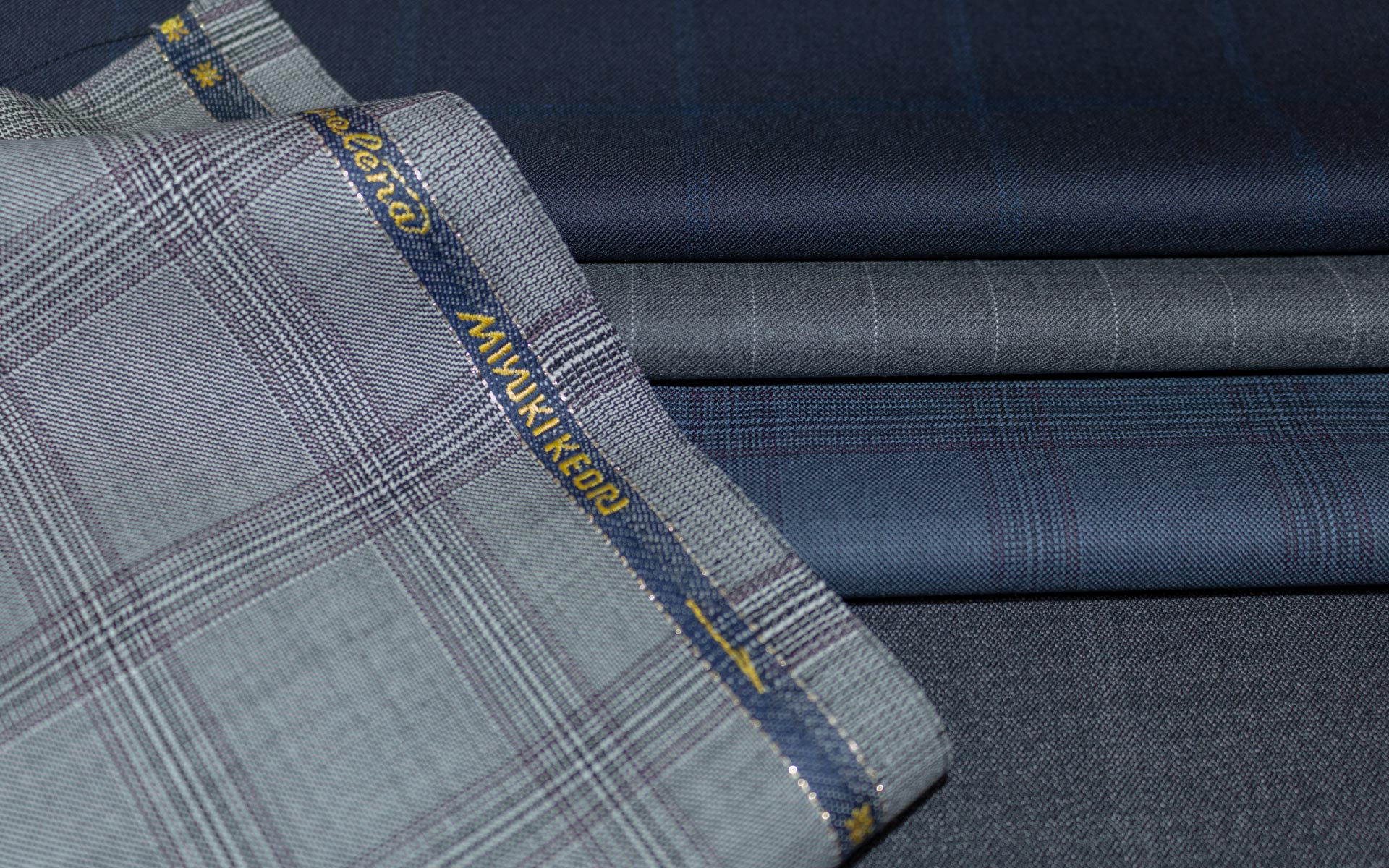 3rd generation:90%WOOL 10%KID MOHAIR 2/1TWILL 240g
NEW
Mohair blended yarn which is used for weft is a compact yarn. To obtain a clear crystal like surface, which the yarn used is less hairy than usual, we carefully sourced ordered this made-to- order yarn from an Italian spinning manufacture.
Here also, we take 5 plain colours including chocolate brown. The designs include alternate stripe and solid plain which is a newly adopted special weaving construction- "dot & border".
WOOL90% KID MOHAIR10% 2/1TWILL 240g